Jiyai Shin (born 28 April 1988), also known as Ji-Yai Shin, is a South Korean professional golfer currently playing on the LPGA Tour and the LPGA of Korea Tour (KLPGA). She has broken all existing KLPGA records, winning 10 events in 19 starts on the KLPGA Tour in 2007. In 2008, playing only 10 tournaments on the LPGA Tour as a non-member, she won three events, including the Women's British Open and the ADT Championship. She is currently ranked number 1 in the Women's World Golf Rankings. In 2005, while she was still in high school, Shin was the only amateur to win a KLPGA event that season when she won the SK Enclean Invitational. She turned professional at the end of the 2005 season. Returning to the KLPGA as a rookie in 2006, she started her year with a pair of third place finishes in her first two events and went on to claim three wins on the season. 2007 marked Shin's breakout year. She played 19 events on the KLPGA and won 10 of them, shattering all existing Tour records. She also ventured onto the LPGA Tour for the first time and played three of the four women's major championships. At the U.S. Women's Open she finished sixth after holding the tournament lead going into the final round. The next month at the Evian Masters, an event on the LPGA Tour an a major on the Ladies European Tour, she finished tied for third. Shin finished 2007 ranked 8th in the world, the highest ranked Korean of all, and the only non-LPGA member who ranked in the top ten.
Opening 2008 at the Women's World Cup of Golf, Shin and number two KLPGA player Eun-Hee Ji succumbed to the Philippines pair of Jennifer Rosales and Dorothy Delasin with a score of -16 after 3rd and final day of competition. Philippines scored -18 and received the $240,000 cheque. Shin then played at the Women's Australian Open where she finished 2nd, losing to Karrie Webb in a playoff. Shin won the Women's British Open in Berkshire, England for her first LPGA Tour and major win. This made her the first non-member of the LPGA to win a major since Laura Davies won the U.S. Women's Open in 1987. She won the 2008 Mizuno Classic in November, shooting scores of 68, 66 and 67. She was six shots ahead of the next competitor to win at -15 (201), to notch her second LPGA career win. Two weeks later she won the ADT Championship, the culminating event in the season-long LPGA playoff series, and claimed the $1 million prize. She became the first-ever non-LPGA member to win three LPGA tournaments. Shin was the first non-LPGA member to ever win three tournaments. Shin has endorsement deals with Mirae Asset & PRGR Golf. Shin's wins in LPGA Tour events in 2008 qualified her for LPGA membership in 2009 (one win would have been sufficient). She got off to a slow start as an LPGA member, missing her first cut ever in an LPGA tournament at the season-opening SBS Open at Turtle Bay. She rebounded and won the third event of the season, the limited field HSBC Women's Champions, scoring 66 in both the third and fourth rounds. She won again in June at the full-field Wegmans LPGA tournament and in September at the P&G Beauty NW Arkansas Championship. By the first week of November she officially clinched the LPGA Rookie of the Year award. On 2 May, Shin won the Cyber Agent Ladies on the LPGA of Japan Tour. On 3 May, she became the World Number 1 ranked women's golfer, replacing Lorena Ochoa who finished in sixth place in an LPGA tournament the prevoius day. She held the position until it was taken over by Ai Miyazato on June 21, 2010 and regained it on July 26 after winning the Evian Masters. On 19 September, Shin won the MetLife-Korea Economics KLPGA Championship, one of the major championships on the LPGA of Korea Tour. With this victory, Shin is now qualified for the KLPGA Hall of Fame, although she has to fulfill her career as professional golfer for 10 years. She will be the third Hall of Famer in 2015, after Ok-Hee Ku and Se Ri Pak.
Tanah Merah Country Club, Sunday, March 8, 2009 – Perfect weather saw a perfect round by Korean sensation Jiyai Shin who shot another bogey-free round of 66 to capture the HSBC Women's Champions by two strokes. A first year member of the LPGA, Shin started the day with four birdies on the first four holes and went on to shoot another two birdies on the back nine. Already a household name on the LPGA Tour before she joined it officially this year, Shin adds this victory to her three other LPGA Tour victories including the 2008 RICOH Womens British Open, Mizuno Classic and ADT Championship. Shin talks about her surprise win. "Actually my tournament goal was to be in the top 10 because I missed the cut in Hawaii and I think that upset me.Yesterday I played very well so I thought I had a chance to make top 10, not win. After making birdies on the first four holes, I was very surprised. So yeah, I feel very happy now." The Champion of Champions title also makes Shin a 2009 Rolex First-Time Winner and signals a great start to Shins first year on the LPGA Tour.
SHIMA, Japan (AP) — Top-ranked Jiyai Shin won the Mizuno Classic on Sunday for her second LPGA Tour victory of the season and eighth overall, closing with a 5-under 67 for a two-stroke victory over Yani Tseng. Shin finished at 18 under after opening with rounds of 65 and 66 on the Kintetsu Kashikojima course. The South Korean star, also the 2008 tournament winner in the event also sanctioned by the Japan LPGA, earned $180,000 to increase her season total to $1,779,768 and pull within $3,535 of leader Na Yeon Choi with two events left. "This morning my feel was a little bit rushed, because I won at the Evian and the last couple of months I didn't win," Shin said. "I have had a lot of chances, but I didn't win. I am waiting all the time for the win. So this morning I felt pressure. "The first hole I made a birdie and after that I got more confident. But Yani was playing very well." Tseng, from Taiwan, shot a 66. "I really tried my best to bring my A-game golf today," said Tseng, a three-time winner this year. "I think I did that very well. Jiyai just played so consistently and she is the greatest player on tour. A very good, competitive player." Shin, who started the day with a two-stroke lead over Lewis, birdied all four par 5s in her bogey-free final round.
South Korean star Jiyai Shin won the HSBC Women's Champions on Sunday for her fourth LPGA Tour title in eight months, shooting her second straight 6-under 66 for a two-stroke victory over Australia's Katherine Hull. The 20-year-old Shin, five strokes behind Hull at the start of the round and four back with nine holes to play, had an 11-under 277 total at Tanah Merah and earned $300,000 for her first victory as a member of the LPGA Tour. "I'm very surprised and very happy," said Shin, the Women's British Open winner last August at Sunningdale. "I'm thinking, I had chance for top 10, not for win." Called the "Final-Round Queen" in South Korea, Shin birdied the first four holes -- opening with 9- and 12-foot putts, chipping in from 45 feet on No. 3 and adding a 15-footer -- to put herself in position to take advantage of Hull's back-nine meltdown. "I think she feels more pressure," Shin said. "She start as the leader and I start tied for sixth. ... She starts leader and she looks at the score, she gets more, I think, big pressure." Hull finished with a 74. She bogeyed the 10th, dropped two more strokes after driving well left into a flower bed on the par-5 13th, then bogeyed the par-3 14th to fall a stroke behind. "I made a really bad choice on 13," said Hull, the Australian Ladies Masters winner last month. "I broke my game plan, so I got what I deserved, I guess, and learnt the hard way. It will make me stronger, I think, and hopefully work harder."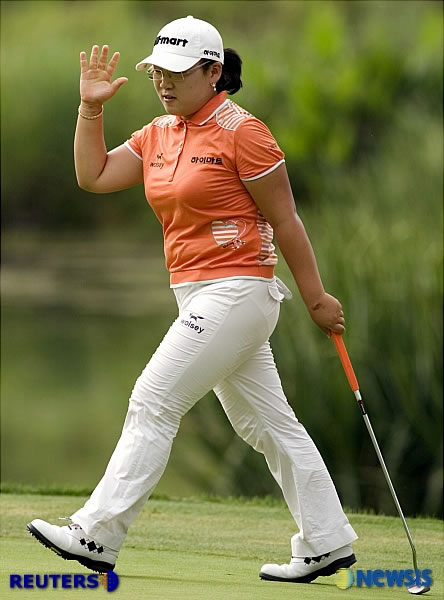 Shin had 12 birdies in her bogey-free 66s after opening with rounds of 72 and 73. "Nothing changed. Just changed the score," Shin said. "I just make birdie. I think yesterday and today I am no bogeys, so that makes it more easy to make low score. First round, second round, yeah, make birdie, but too much mistakes." Last year, Shin, ranked fifth in the world, followed her major win at Sunningdale with late-season LPGA Tour victories in the Mizuno Classic and ADT Championship. She also won seven times on the Korea LPGA and once on the Japanese tour. "This year, my first goal is to win rookie of the year," Shin said. "So, I think, this tournament, I moved more closer little bit. Then I want to defend my titles." Hull, the former Pepperdine star who won the Canadian Women's Open last summer for her lone LPGA Tour title, birdied 17 and closed with a bogey. Shin is skipping the Lorena Ochoa Invitational next week in Mexico. "I am going to take it easy for the next couple of weeks and then head to LPGA Tour Championship," Shin said. "I want to play well there because the Tour Championship is the last tournament of the year. If I have good play there it will make a warm winter."